Wine Storage Dos and Don'ts.
Storage is an important consideration for wine that is being kept for long-term aging. While most wine is consumed within 24 hours of purchase, fine wines are often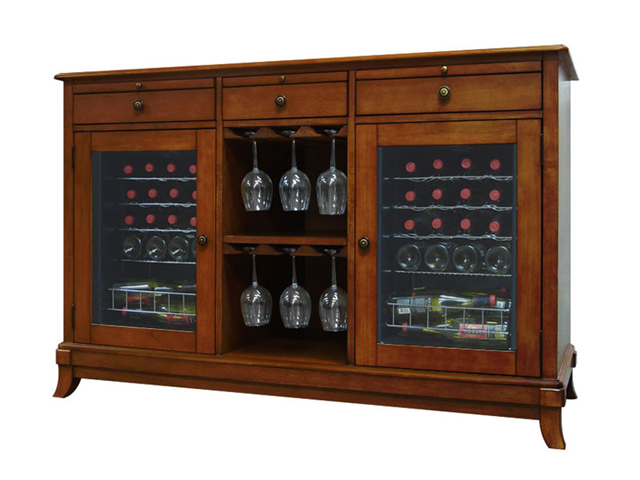 kept for long-term storage. Wine is one of the few commodities that can improve with age but it can also rapidly deteriorate if kept in improper conditions. Some important factors that have the most direct impact on a wine's condition are light, humidity and temperature and a fourth consideration is security for expensive wines.
Do store in a dark place, especially if the bottle is clear. Dark bottles are better than clear or green bottles at protecting liquids from light, but regardless, dark areas are best. Ultraviolet light affects your wine! Keep your wine away from fluorescent lights, sunlight and from heat
sources such as the furnace, hot water heaters, water pipes, other appliances and especially the top of your fridge! Strong, direct sunlight or incandescent light can adversely react with phenolic compounds in wine and create potential wine faults. Delicate, light-bodied white wines run the greatest risk from light exposure and are often packaged in darkly tinted wine bottles that offer some protection from the light. Wines packaged in clear, light green and blue colored bottles are the most vulnerable to light and may need extra precautions for storage.
Do store your wines at the proper humidity. Heat and humidity are important to the welfare of your wine. For longer storage, humidity should be around sixty percent and will keep the corks fresh and expanded. If wine is stored in conditions that are too dry, the cork will shrink and cause leakage. Too moist, and mold and contamination may occur.To avoid these problems and assist in the optimum wine development conditions, store in an area that maintains moderate humidity levels of 55%-75%.
Do store at the proper temperature because wine is very susceptible to changes in temperature. If the wine is exposed to too high a temperature (in excess of 77 °F (25 °C)) for long periods of time, it may become spoiled or "cooked" and develop off flavors that taste like raisins or stewed. The exact length of time that a wine is at risk of exposure to high temperatures will vary depending on the wine. Some wines are exposed to high temperatures during its wine making process and are able to sustain exposure to high temperatures more easily than other more delicate wines,such as Riesling. If the wine is exposed to temperatures that are too cold, the wine can freeze and expand, causing the cork to be pushed out. This will allow more oxygen to be exposed to the wine. If wine is stored in conditions that are too dry, the cork will shrink and cause leakage. Too moist, and mold and contamination may occur. Dramatic temperature swings, such as repeated transferring a wine from a warm room to a cool refrigerator can also cause adverse chemical reactions in the wine that may lead to a variety of wine faults.  Most experts recommend that wine be kept at constant temperatures between 50 and 59 °F (10 and 15 °C) while 52 °F (11 °C) may be the most ideal temperature for storage and aging for longer periods of time. Some of our units come with a built-in hygrometer. (Vinotemp VT-CAVE G)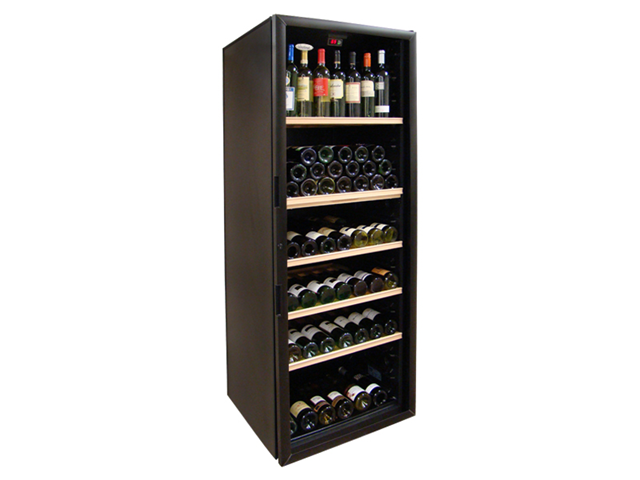 Wine has a greater potential to develop complexity and a more aromatic bouquet if it is allowed to age slowly in a relatively cool environment. The lower the temperature, the more slowly a wine develops.  Wine can be stored at temperatures as high as 69 °F (21 °C) without long-term negative effect.
Do store bottles on their side. Storing them on their side keeps the cork in contact with the liquid and thus keeps the cork moist. A dry cork can create an imperfect seal with the neck and opening of the bottle and potentially let air in. This can cause oxidization and cause premature aging.
Don't use your kitchen refrigerator as a storage or aging device. A kitchen refrigerator is too cold and can dry out the cork allowing air into the bottle. A kitchen refrigerator is constantly opened and closed making it harder to maintain a constant temperature. Usually when the bottle is put in a kitchen refrigerator, it is stored standing up and thus does not keep the cork moist. The drying out of the cork will have disastrous effects due to oxidation. Another option that is becoming more popular are the screw cap bottles.
Don't store bottles in a cabinet above an oven or microwave or in the kitchen. Heat from ovens, stoves and microwaves can shorten wine's aging potential and or destroy its taste and balance.
Don't store near windows, fireplaces or other appliances or areas that give off heat or are heat sources.

Don't allow children or unwanted visitors to have access to your wine collection. A locking wine cooler will fix this problem. They come in various styles and sizes and also furniture style cabinets that will fit into your home decor.
Some people prefer the construction of home wine cellars and wine caves, small rooms or spaces in which to store wine. Others prefer storage such as racks and wine refrigerators. These appliances can feature adjustable temperature with two chambers for red and white wines and materials which protect the wine from the sun and ambient environment.
For our complete line of wine coolers and aging cellars go to http://www.winecoolersandmore.com/